The Commons in Action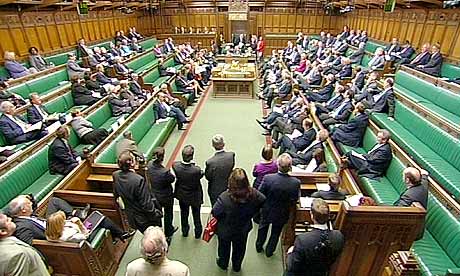 Still flush from the excitement of the Nick Clegg meeting, the SGS team then headed over to see what was going on at the House of Commons. Unusually for an evening sitting, the hallowed green benches had a few elected posteriors sitting on them to debate the issue of fixed-term parliaments. When we joined the party - although admittedly in the second class seats behind a mammoth glass partition that serves to remind us of our inferior, unelected status - two rather lonely government bench figures were being forced to listen to a succession of Scottish MPs ask why they weren't taking more notice of the Scottish experience. Thomas Docherty MP gave us a helpful lecture about the intentions of the American founding fathers. Sheila Gilmore, of Edinburgh East, rambled through a series of Scottish based points that faced regular intervention from those Tory MPs still casting half an ear to the debate, and which usually required one or two members of her own side to counter-intervene and re-interpret the honourable lady's meaning. Given all this intervening, it ended up being quite a lengthy speech, which front bench spokesman Mark Harper whiled pleasantly away by having a catch up conversation with government whip Mark Francois, who seemed sublimely uninterested in Mrs. Gilmour's views. Ed Balls popped in to have a chat behind the Speaker's chair with his old ally Tom Watson, and Chris Grayling popped his head into the chamber, only to quickly withdraw again - perhaps when he realised what the debate was on. It always seems a shame that Scottish MPs at Westminster, deprived of any real authority by having another parliament in Scotland to deal with their constituents' interests, should still have to put themselves through the hollow activity of speaking at Westminster, and there were few enough people to hear them. There was the occasional call for the presence of the Deputy Prime Minister, but possibly they weren't aware that he'd already done his bit of constitutional explaining over the road at the Hansard Society meeting.
Thus far, the debate had been interesting enough, but not noteworthy for any flights of rhetorical excellence. Then, the ebullient figure of Stephen Pound MP arose, and delivered a comic turn that must surely have been developed in an earlier career in stand-up. He electrified a moribund debate through the simple expedient of being moderately entertaining. I can't wait to go back and hear more.