Paxman v. Miliband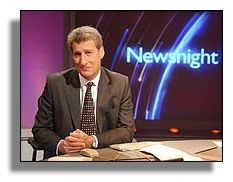 Newsnight featured a report from Burma (or Myanmar as its rulers prefer it to be known) tonight. That the situation there is desperate is not in doubt, and the monks provide a remarkable example of courage and resilience in the face of potential violence from the military dictatorship towards them. Also, still under house arrest, Aung San Suu Kyi, the opposition leader, represents extraordinary dignity under pressure, and a continued hope for her people. The Newsnight report suggested that the British government was less than energetic in its pursuit of policies that might help to bring freedom to Myanmar.
In the interview between Jeremy Paxman and David Miliband afterwards, there was a noticeable edginess, with Miliband curling his lip at most of Paxo's questions, and Paxo at one point curtly telling Miliband not to patronise him! Pressed by Paxman on the level of British support for Burma, Miliband kept saying "I don't have any statistics for that". They ended courteously enough, but it is not often that I've seen such apparent antagonism flow over so consistently into an interview, even a Paxman one.
In his blog post before the interview, Paxman describes Miliband's speech as delivering "his first Foreign Secretary's speech to conference as if he was the school swot being asked to talk at Speech Day"! Paxman's comments in full are
here
.